Dr. habil. Mathias Berek
Wissenschaftlicher Mitarbeiter am Zentrum für Antisemitismusforschung der Technischen Universität Berlin. Habilitation im Juni 2019, Lehrbefugnis: Kulturwissenschaften. // Research associate at the Center for Research on Antisemitism, TU Berlin.
Aktuelle Projekte // current projects:
Neuerscheinung: Moritz Lazarus. Deutsch-jüdischer Idealismus im 19. Jahrhundert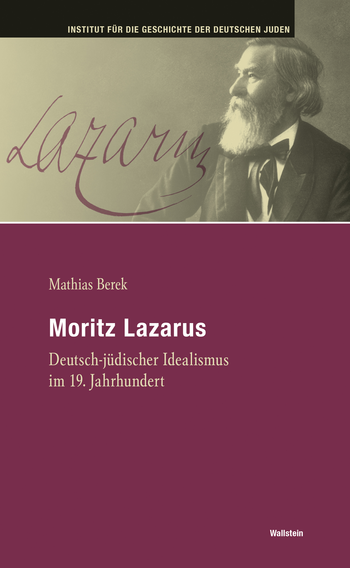 Eine Rezeptionsgeschichte des deutsch-jüdischen Gelehrten Moritz Lazarus (1824-1903) zwischen Populärphilosophie, Sozialpsychologie und jüdischer Ethik. Im April 2020 erschienen in Göttingen bei Wallstein.
M. Lazarus: Geboren als Moses und eingedeutscht als Moritz veröffentlichte der deutsch-jüdische Philosoph keines seiner Werke unter diesen Vornamen, sondern stets als »M.«. Die Ambivalenz dieser Selbstbezeichnung spricht für seine Wirkungsgeschichte wie für die deutsch-jüdischer Intellektueller im 19. Jahrhundert. Mathias Berek zeichnet diese Rezeptionsgeschichte anhand ihres Widerhalls in Tageszeitungen, Zeitschriften und Büchern nach. Lazarus war in der wilhelminischen Gesellschaft bestens vernetzt - und dennoch wurde der erfolgreiche Redner und Wissenschaftler stets und zunehmend als Jude wahrgenommen und ausgegrenzt. Er war Mitbegründer der Völkerpsychologie - einen Lehrstuhl dafür aber richtete ihm die Berner Universität ein, alle deutschen verweigerten ihm die Professur. Die neue Disziplin wurde vor allem als Völkercharakterologie rezipiert - weniger wegen Lazarus´ Entwurf einer pluralistischen Gesellschaftstheorie. Für seine kantianische Ethik des Judentums wurde Lazarus gleichermaßen verehrt wie verachtet. Sein ganzes Wirken war dabei im philosophischen wie alltagsweltlichen Sinne idealistisch inspiriert und wurde stets auch so verstanden - und doch am Ende des Jahrhunderts verworfen.
Das Buch geht auf die Arbeiten im DFG-geförderten Forschungsprojekt "Der Protosoziologe Moritz Lazarus im Kontext deutsch-jüdischer Lebenswelten" am Institut für Kulturwissenschaften der Universität Leipzig zurück. Mitantragsteller war Prof. Dr. Klaus Christian Köhnke, Kooperationspartner: Prof. Dr. José Brunner, Minerva Institute for German History, Tel Aviv University.
Book launch: Moritz Lazarus. Deutsch-jüdischer Idealismus im 19. Jahrhundert
A history of reception of the German-Jewish scholar Moritz Lazarus (1824-1903) between popular philosophy, social psychology and Jewish ethics. April 2020 published in Göttingen with Wallstein.
The book is based on the work in the project "Proto-Sociologist Moritz Lazarus within the Context of German-Jewish Life-Worlds", conducted at the Institute for the Study of Culture, Leipzig University, in cooperation with Prof. Dr. Klaus Christian Köhnke and Prof. Dr. José Brunner, Minerva Institute for German History, Tel Aviv University, funded by the Deutsche Forschungsgemeinschaft (DFG).
Moritz Lazarus (1824-1903) was a well-known figure in his time – as founder of the social psychology called "Völkerpsychologie" and as an active representative of German reformed Jewry. The project investigates how his publications and he as a person have been perceived, interpreted and appraised contemporarily and posthumously. How did Lazarus himself and how did others construct him – during lifetime and from within biographical reviews? The project analyzes the trends of those self- and external constructions within the contexts of political, social and biographical developments and thus throws a light on the complex history of the life and action of a 19th century German Jew and his modern social theory. I want to answer why his modern sociological and pluralistic thought that was interested in the contact and blend of cultures rather than in homogeneity and race remained at the edge of his own society, sunk into anonymity after his death and only much later found recognition.
Weitere Neuerscheinungen / other new publications
The Thin Crust of Civilization. Lessons from the German Jewish Past, in: Gideon Reuveni und Diana Franklin (Hg.): The Future of the German Jewish Past. Memory and the Question of Antisemitism, West Lafayette, Indiana: Purdue University Press 2021, S. 77-86.
Zwischen Postnazismus und Post-Migration: Jüdische Perspektiven auf die Wende- und Nachwendezeit. Gespräche mit Max Czollek, Dmitrij Kapitelman, David Kowalski und Hannah Peaceman (mit Felix Axster), in: Lydia Lierke und Massimo Perinelli (Hg.): Erinnern stören. Der Mauerfall aus migrantischer und jüdischer Perspektive, Berlin: Verbrecher Verlag 2020, S. 33-67.
Verschenkte Potenziale. Marginalisierte Ideen über gesellschaftlichen Zusammenhalt im Kaiserreich und in der Nachwendezeit (mit Felix Axster und Stefanie Schüler-Springorum), in: Nicole Deitelhoff, Olaf Groh-Samberg und Matthias Middell (Hg.): Gesellschaftlicher Zusammenhalt. Ein Interdisziplinärer Dialog. Frankfurt / New York: Campus 2020, S. 152-173.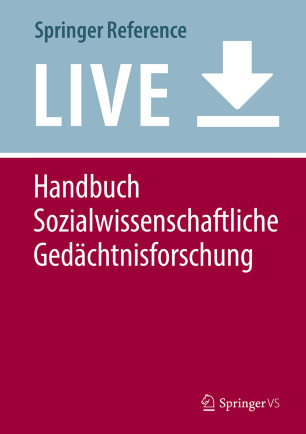 Der Begriff "soziale Gedächtnisse" (mit Gerd Sebald, Oliver Dimbath, Nina Leonhard, Valentin Rauer, Kristina Chmelar, Hanna Haag und Michael Heinlein), in: Handbuch sozialwissenschaftliche Gedächtnisforschung, Wiesbaden: Springer VS 2020.
Völkerpsychologie, in: Hans-Peter Müller / Tilman Reitz (Hg.): Simmel-Handbuch. Begriffe, Hauptwerke, Aktualität, Berlin: Suhrkamp 2018, S. 580-584.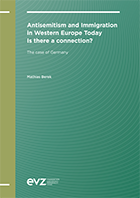 Antisemitism and Immigration in Western Europe Today: is there a connection? The case of Germany. Research report. Published by Foundation Remembrance, Responsibility and Future (EVZ), Berlin and the Pears Institute for the study of Antisemitism, University of London. April 2018.
Zusammenfassung / Executive Summary auf deutsch hier.
Vom Erfolg ins Abseits? Jüdische Ge­schichte als Geschichte der »Anderen« (mit Kirsten Heinsohn), in: Aus Politik und Zeitgeschichte 68 (2018), Nr. 38/39: »Zeitgeschichte(n)«, 17.9.2018, S. 8–11, online hier (Reprint aus Medaon Nr. 20).
Importierter Antisemitismus? Zum Zusammenhang von Migration, Islam und Antisemitismus in Deutschland, in: Jahrbuch für Antisemitismusforschung 26 (2017), S. 327-360.
Moritz Lazarus, in: Encyclopedia of the Bible and its Reception (EBR), vol. 15, Kalam – Lectio Divina, Berlin / Boston: De Gruyter 2017, DOI: 10.1515/ebr.lazarusmoritz.
The construction of coherence. Reconsidering the political functions of memory, in: Sebald, Gerd / Wagle, Jatin (Hg.): Theorizing Social Memories. Concepts and contexts, London / New York: Routledge 2016, S. 122-137.
Neglected German-Jewish Visions for a Pluralistic Society: Moritz Lazarus, in: The Leo Baeck Institute Yearbook 2015. Published online first April 18 2015.
Transfer Zones: German and Global Suffering in Dresden, in: Beyen, Marnix / Deseure, Brecht (Hg.): Local Memories in a Nationalizing and Globalizing World. Basingstoke: Palgrave Macmillan 2015, S. 72-93.
Mathias Berek: Kollektives Gedächtnis und die gesellschaftliche Konstruktion der Wirklichkeit. Eine Theorie der Erinnerungskulturen. Wiesbaden: Harrassowitz 2009 (Kultur- und sozialwissenschaftliche Studien Bd. 2). ISBN: 3447059214; broschiert; 224 S.; EUR 38. Vergriffen, aber weiter als print-on-demand bestellbar.
Trotz intensiver Bearbeitung des Forschungsfelds Erinnerungskultur bestehen zwei Probleme bis heute: Das Verhältnis zwischen Individuum und Kollektiv bleibt weitgehend ungeklärt, und zu oft wird von der Existenz einer »wahren«, unverfälschten Erinnerung ausgegangen. Die »Theorie der Erinnerungskulturen« bietet eine Lösung für diese Probleme an, indem sie Erinnerungskultur als Teil des gesellschaftlichen Wissensvorrats analysiert – und zwar systematisch in ihrer Entstehung, Struktur und Funktion. Sie ergänzt die Beschreibung der kulturellen Existenz des Menschen als animal symbolicum um das Kapitel der Erinnerung.
Dabei bringt die Arbeit die konstruktivistische Wissenssoziologie von Peter L. Berger und Thomas Luckmann mit der Lebenswelt-Analyse von Alfred Schütz zusammen. Auf dieser theoretischen Basis systematisiert sie die Ergebnisse der Gedächtnisforschung, von den Neuro- und Literaturwissenschaften über die Psychologie und Soziologie bis zu den Geschichtswissenschaften, um zu einer kohärenten Theorie des kollektiven Gedächtnisses zu gelangen. Erinnerungskulturen sorgen dafür, gesellschaftlichen Zusammenhalt herzustellen, und sind deshalb stets Gegenstand politischer Auseinandersetzungen. Eine »wahre« Erinnerung kann es in den komplexen Prozessen kollektiven Gedächtnisses nicht geben.
Memory Culture and the Construction of Reality
(in German):
Mathias Berek: Collective Memory and the Social Construction of Reality. A Theory of Memory Cultures. Wiesbaden: Harrassowitz 2009 (Studies in Cultural and Social Sciences vol. 2); German; ISBN: 3447059214; paperback; 224 pp.; EUR 38.Out of print, but can be ordered further as print-on-demand.
Although collective memory has been examined intensively, two problems remain underestimated: The relation between the individual and the collective mostly stays unexplained, and too often the existence of a »true« memory still is being assumed. These problems can be resolved if memory gets analyzed as a part of the social stock of knowledge – systematically in its formation, its structure, and its functions. That is the task of the present theory of the memory cultures. This theory seeks to append the chapter »Memory« to the book of the cultural existence of human as the animal symbolicum.
To reach this goal the work brings together the social-constructivist sociology of knowledge by Peter L. Berger and Thomas Luckmann and the analyzis of the Life-World by Alfred Schütz. Based on this theoretical foundation it systematizes the findings of memory studies – neuroscience, psychology, literature studies, sociology and history – to approach a coherent theory of collective memory. Memory cultures produce social coherence and therefore are always subject to political debate and conflict. And within the complex processes of collective memory there is no place for the »true« recollection.